A Tribute to William Mitchell
If you've driven in Kidderminster, you're sure to have noticed the extensive concrete relief decorating the retaining wall from Worcester Cross to Worcester Road Ring Road.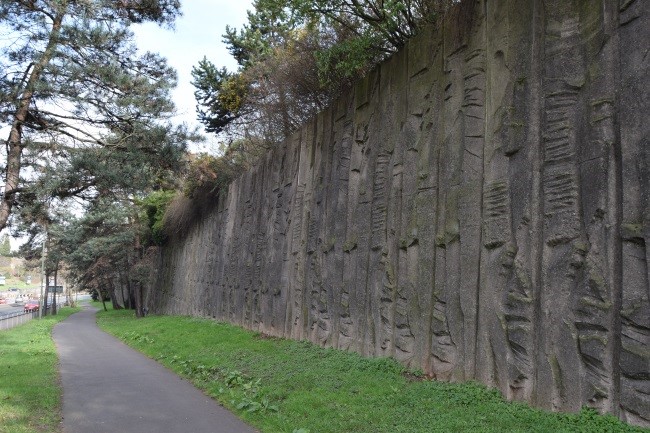 Kidderminster's inner ring road was commissioned as a solution to relieve traffic congestion through the town centre. The project comprised five stages, or sections, of which four were eventually completed. Stage Three, the link between Worcester Cross and Stourport Road, was opened in August 1973 and differed from the other phases insofar that its elevated route provided a strong visual backdrop to the town centre. A wide, terraced footway was constructed parallel to the new dual carriageway, providing access from the town centre (via a new subway at Worcester Cross) to Aggborough; a new suburb that also included the Kidderminster Harriers football ground and Kidderminster College.
Douglas H Smith, a consultant landscape architect, along with Jack Stewart, the Borough Engineer and Surveyor, was contracted to design the early stages of a project to create a substantial work of public art to embellish the retaining wall. Public art was pivotal to post-war regeneration and re-invention, connecting planning, landscape and the environment with local community and industry and engendering a feeling of social connection and belonging. Like all art, public art sought to attract attention, reflecting contemporary culture, in subject, method and material.
The sculptor William Mitchell who had risen to prominence during the 1960s and who died this week, aged 94, was commissioned to design and deliver the work. Much of Mitchell's art centred on the creation of large-scale installations using, in addition to other materials, concrete shaped with fiberglass molds (Pereira, 2019). His style was rooted firmly in mid-20th century modernism and inspired by abstract design; many of his pieces have been listed by Historic England.
The relief that you can see today is approximately 320 metres in length and presents Mitchell's signature style to great effect. The main engineering contractor, George Law and Company brought considerable expertise of working with concrete to ensure the project was successfully delivered and the design even incorporated a water cascade – which unfortunately ran dry some years ago – as one of the moulded panels. The overall finish was pale buff in colour which, along with its associated soft landscaping of amenity grass and mixture of broadleaf and coniferous (mostly pine) trees, created a striking backdrop that was visible across the town centre and Stour Valley.
Thanks to Dr. D Pereira and the Kidderminster Civic Society for providing information to the Worcestershire Historic Environment Record in relation to the site.
Over the past 18 months Worcestershire Archive and Archaeology Service has been adding a new layer to the Historic Environment Record by proactively recording locally valued non-domestic buildings and public places dating from the 20th century. Keep an eye on our Explore the Past blog over the next few months for more information about the project and its outputs.
4 responses to "A Tribute to William Mitchell"