Small Pits, Big Ideas II: Researching rural Worcestershire
Worcestershire Archaeological Society (WAS) has received a National Lottery Heritage Fund grant of £62,700 for an exciting county-wide archaeology project – Small Pits, Big Ideas II. Made possible by money raised from National Lottery players, the project will enable six rural communities across Worcestershire to explore the origins of their settlements and contribute to academic research through the archaeology hidden in back gardens.
Starting this spring, local communities will be able to get hands on with their own heritage by digging 'test pits' to find evidence of the earliest inhabitants and how their settlement changed over time. The project will wrap up in 2021 with a touring exhibition of the finds and is a partnership between WAS, Worcestershire Archive & Archaeology Service, Green Fingers Project, Badsey Society, Bewdley Historical Research Group, North Worcestershire Archaeology Group and Wichenford Local Heritage Group. Support will also be provided by archaeology students at the University of Worcester and Wolverley & Cookley Historical Society.
Relatively little is known about the development of Worcestershire's rural medieval settlements as many remain lived in, making large scale archaeological excavations impossible. Through small test pits in gardens across each village, the Small Pits, Big Ideas project will bring locals directly in touch with their past and shine new light on the growth of rural settlements across the county. This project follows a pilot phase in 2017-18, which showed the potential of test pitting in Worcestershire.
Professor Carenza Lewis (University of Lincoln), who pioneered the approach in eastern England with considerable success, explained that, "This is a fantastic project which will enable people of all ages and backgrounds across Worcestershire to enjoy the excitement and camaraderie of making new discoveries in everyday places which have never been excavated before."
Commenting on the award, Anne Jenkins, Director, England, Midlands & East at The National Lottery Heritage Fund said, "The Small Pits, Big Ideas project will give local communities the opportunity to not only learn about heritage, but to become truly involved in it by getting hands-on with archaeology closer to home than they might realise. Giving people a chance to gain a better understanding and forging a closer relationship to their heritage is something we are proud to fund."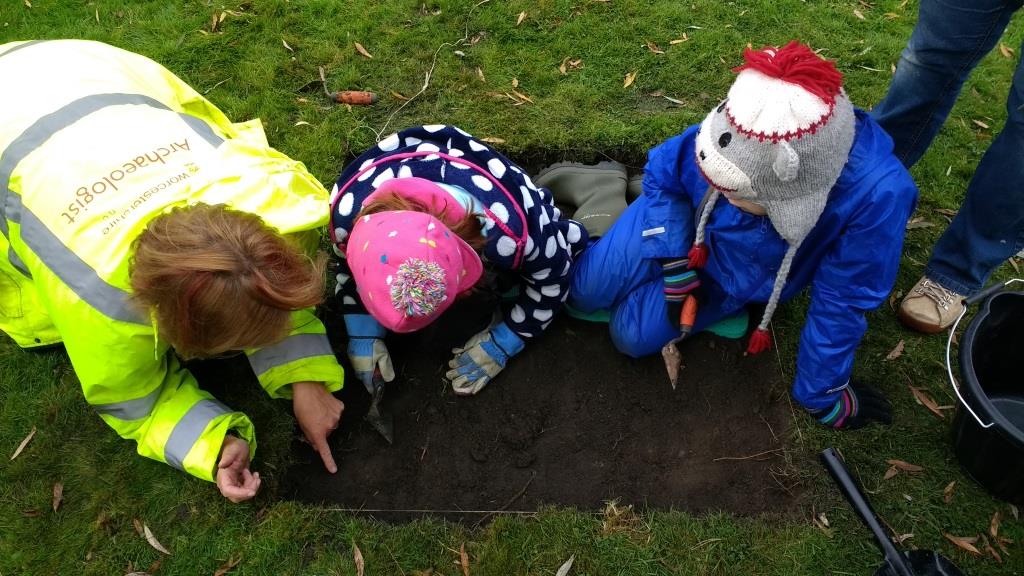 All sorts of rubbish were thrown in back gardens, making them ideal places to look for clues (© WAAS).
Selection of finds from the pilot project (L-R): early medieval pottery used shortly after the Norman Conquest, toy car lost during the 20th century and piece of 18th century German 'chequerboard' tankard.
Worcestershire Archaeological Society
Worcestershire Archaeological Society has been promoting the study of archaeology and local history in Worcestershire since 1854 and are committed to working with like-minded local and national organisations to help achieve our aims. Alongside an annual lecture programme, the Society's produces news and research publications that are distributed worldwide.
www.worcestershirearchaeologicalsociety.org.uk
National Lottery Heritage Fund
Using money raised by the National Lottery, we inspire, lead and resource the UK's heritage to create positive and lasting change for people and communities, now and in the future. www.heritagefund.org.uk. Follow @HeritageFundUK on Twitter, Facebook and Instagram and use #NationalLotteryHeritageFund