Commemorative and Public Art of the 20th Century
Symbolic, reflective, challenging and often controversial, commemorative and public art of the 20th Century is an engaging part of our social, cultural and political landscape.
Adding a New Layer: 20th Century Heritage in Worcestershire – Civil Buildings
Over the past two years Worcestershire's Historic Environment Record has been working to identify, record and better understand the significance of 20th Century buildings and public places across the County. Many more await discovery and assessment!
Funded by Historic England, this project has also aimed to strengthen the public's awareness and appreciation of 'everyday' 20th Century heritage, its conservation, value and significance.
From County Small Holdings and Schools to Village Halls and National Chain Stores, this blog will – over the next couple of months – explore the diverse range and legacy of our 20th Century heritage and celebrate the extra layer of richness it brings to both our lives and landscapes.
Commemorative art – predominately war memorials and sculptures – has long been a feature of public spaces. The twentieth century bore witness to an upsurge in individual and collective commemoration. The horror and scale of loss during the Great War, closely followed by the impact of the Second World War on home soil, propelled war commemoration to the forefront of both the public and political agenda. Memorials enable a person or community to express their individual or collective experience of grief in such a way as is meaningful for them; consequently, they vary considerably in both their design and setting. The diversity of memorials, memorial plaques and memorial landscapes in Worcestershire is considerable.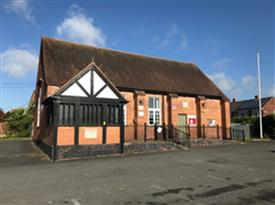 Ombersley Memorial Hall was constructed as a memorial to those local individuals who lost their lives during the Great War but also in celebration of those who returned. The project was led by Lord Sandys of Ombersley Hall and was funded by a range of local individuals and societies. Reminiscent of a village school, the hall opened in 1923, and remains at the heart of village life today.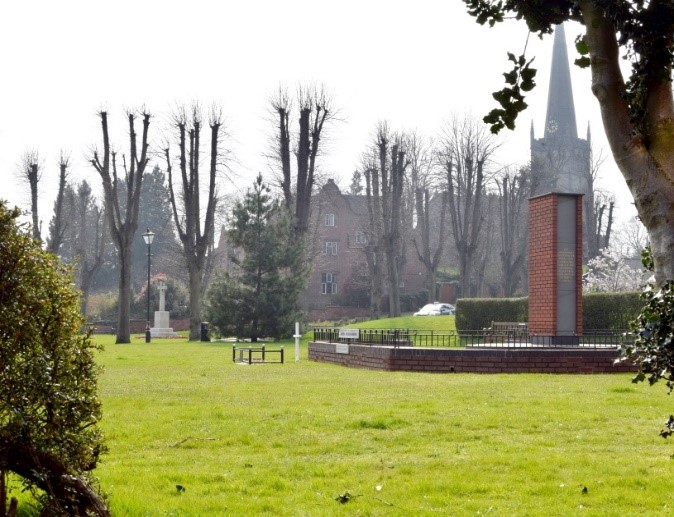 The Burma and multi-theatre memorials are large structures set at opposite ends of a memorial landscape at Crown Green in Bromsgrove. The Burma Star Association, dedicated in 1982, was commissioned in remembrance of those who died during the 'Burma Campaign 1941-45. Constructed from red brick and Welsh slate, the structure is a monolithic column form in a Modernist style. The Multi-Theatre Memorial is a more traditional Portland Stone cross, despite being one of the more recent memorials erected in Worcestershire. Completed in 2013 the monument was built from funds raised by the Bromsgrove Armed Forces Memorial Fund following the death of local soldier, Private Robert Laws in the Afghanistan War. The monument is, however, dedicated to the memory of those killed in all conflicts.
The naming of buildings, rooms, landscapes and roads has long been utilised as a means of commemorating notable events, individuals or benefactors; dedications and their associations often get lost over time. Examples from the 20th Century include the Richard Eve Monument in Brinton Park, Kidderminster (unveiled in 1902); the Lucy Baldwin Maternity Hospital in Stourport on Severn (opened in 1929 and recently demolished, dedicated to Lucy Baldwin, a vocal advocate for improved maternity care for woman and children) and Walter Stranz Square in Redditch (named after local councillor and several times mayor Walter Stranz whose family fled Germany in 1938 following Kristallnacht).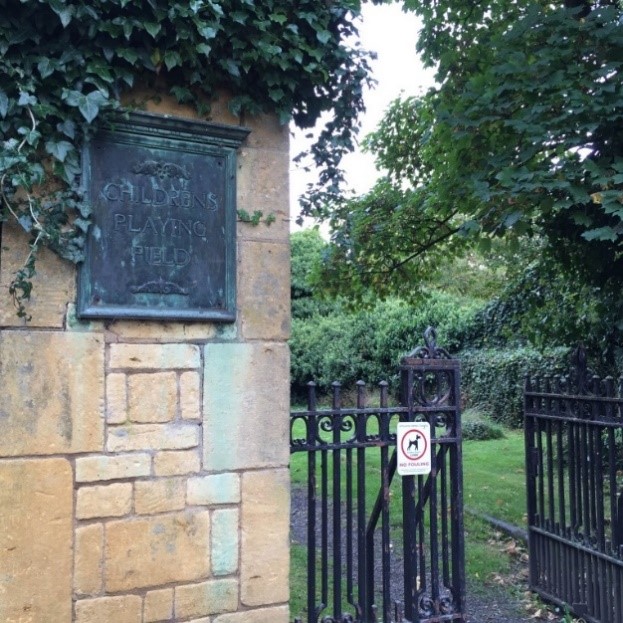 The children's playing field, in Elmley Castle, was dedicated in 1929 in loving memory of Ernst Victor Stevens of Chapel Farm, Netherton and is an early example of a recreational area for children, reflecting changing social attitudes to health, welfare and children during the early 20th Century.
Decorative art, as part of public space, is considered a more recent phenomenon. Public art was pivotal to post-war regeneration and re-invention, connecting planning, landscape and the environment with local community and industry and engendering a feeling of social connection and belonging. Like all art, public art attracts attention, reflecting contemporary culture, in subject, method and material. It can also challenge society, both politically and socially.
Post-war public art, which can include sculpture, concrete reliefs, murals and the structure or decoration of buildings, can be found in town centres but also in locations such as schools, shopping centres, factories, housing estates, offices and in rural settings, including along Public Rights of Way. 20th Century public art reflects artistic movements of the time, including Abstract Expressionism, Cubism, Surrealism and Pop Art. Although public campaigns by the Twentieth Century Society and Historic England have raised the profile of post-war public art many significant pieces are at risk of demolition as a result of re-development or refurbishment. Others have been lost, stolen, neglected, vandalised, sold into private ownership or moved from their original location; breaking the connection between art, community and place.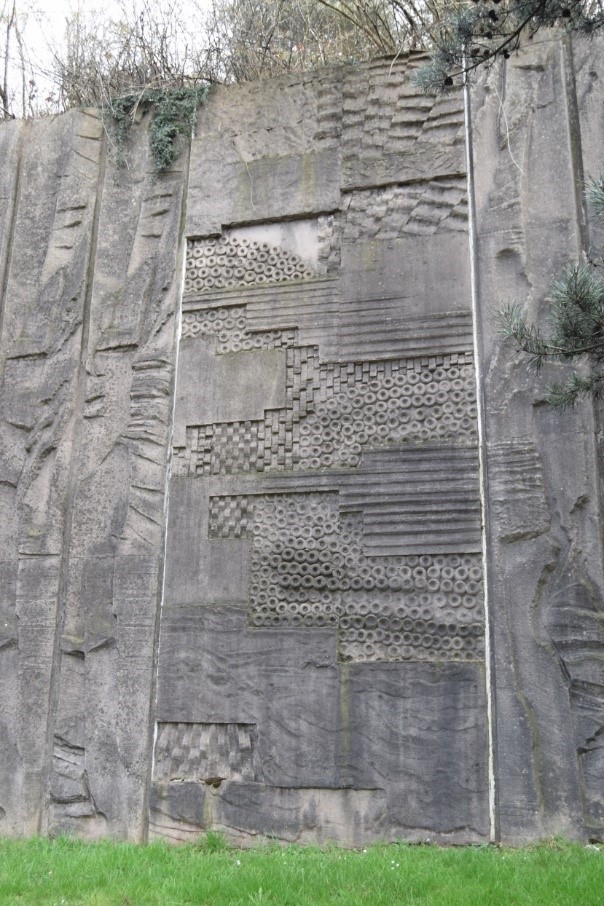 1976 concrete murals by William George Mitchell on the Kidderminster ring road retaining walls. To find out more check out our Tribute to William Mitchell on Explore the Past.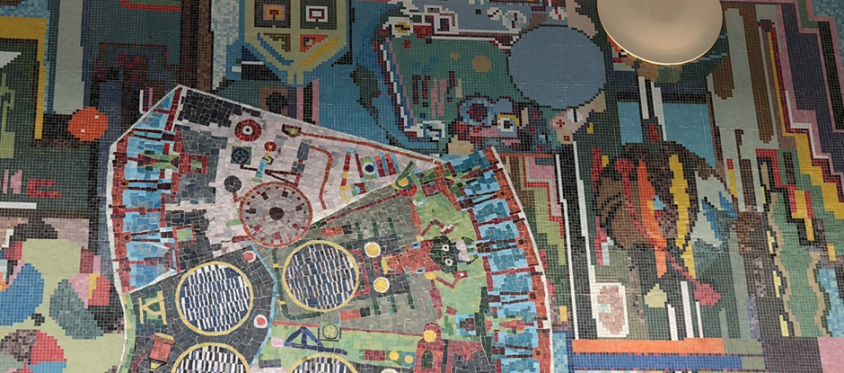 Mosaics by Sir Eduardo Paolozzi in the Kingfisher Centre, Redditch.  Funded by the Redditch Development Corporation, the Needles Industry Group and the Arts Council's 'Arts in Public Places' Scheme, the mosaics were unveiled in 1983 and pay tribute to Redditch's industrial heritage as a centre for the manufacture of needles. To find out more check out Eduardo Paolozzi – The Pop Art Pioneer on Explore the Past.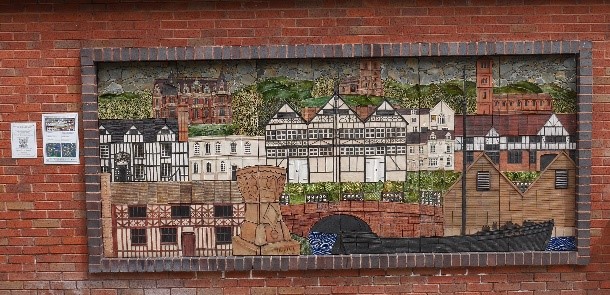 The Buildings of Droitwich mural designed and manufactured by Philippa Threlfall, and unveiled in 1976, was commissioned by Droitwich Town Council to enhance their new Salters Shopping Centre.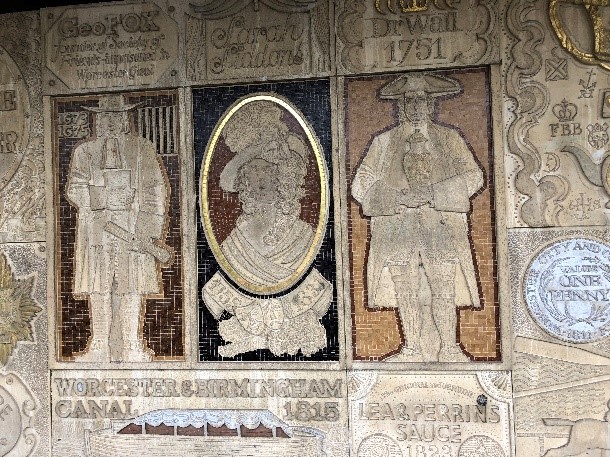 This concrete mural on the side of Sainsbury's in Blackpole was sculpted by Joyce and Harry Collins and is dated c. 1976. The mural, which is inspired by the city's unique history, livens up the façade of a building designed for function rather than aesthetic, through its bold use of colour and texture.

One response to "Commemorative and Public Art of the 20th Century"