Adding a New Layer: 20th Century Heritage in Worcestershire – Religious, Ritual and Funerary
Churches, chapels and other places of worship have been central to the lives of communities from the medieval period. Over the course of the last century, however, growing secularism and religious diversity has radically changed the religious landscape.
Over the past two years Worcestershire's Historic Environment Record has been working to identify, record and better understand the significance of 20th Century buildings and public places across the County. Many more await discovery and assessment!
 Funded by Historic England, this project has also aimed to strengthen the public's awareness and appreciation of 'everyday' 20th Century heritage, its conservation, value and significance. From County Small Holdings and Schools to Village Halls and National Chain Stores, this blog will explore the diverse range and legacy of our 20th Century heritage and celebrate the extra layer of richness it brings to both our lives and landscapes.
The place of the traditional Christian church in British society has changed considerably throughout the course of the 20th-century. At the beginning of the 20th-century church going was a common occurrence with many people attending weekly services. Churches continued to play a significant role in the provision of education with many children attending a denominational or Sunday school.
From traditional Gothic and Arts and Crafts inspired architecture to tin tabernacles and experimental modern design, the character of 20th-century churches is incredibly diverse. Post-war reconstruction and the proliferation of other Christian denominations influenced by American evangelicalism, such as Jehovah's Witnesses and Christadelphians, encouraged new building, particularly in larger towns, cities and the emerging suburbs where there was increased migration, population growth and economic prosperity. Islamic, Sikh and Hindu places of worship followed the pattern of earlier Christian denominations – practice in homes and other premises prior to the building and establishment of their own places of worship.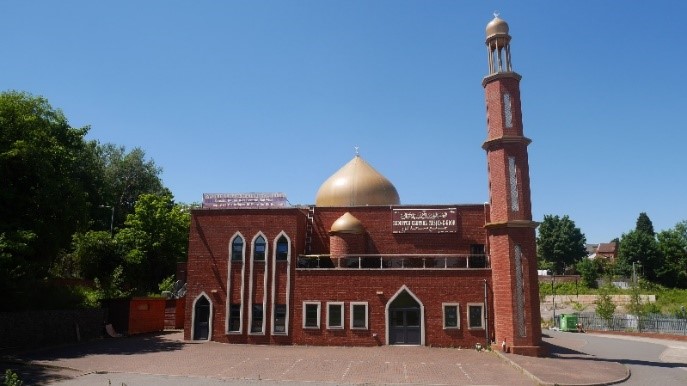 Although 21st-century in date this impressive Mosque on Jinnah Road, in Redditch, reflects the growth of the town's Muslim community, throughout the course of the 20th-century. Redditch Central Mosque, one of the earliest mosques in the town, was previously accommodated in the former St. Stephen's Church Institute on Easemore Lane. Dated to 1910 the institute is of Domestic Revival style with vernacular detailing. Photograph © WCC
A proliferation of building by the Catholic Church, particularly in the 1950s and 1960s, adapted classical Italianate as well as Gothic Revival styles, before subsequently embracing the simpler purer forms facilitated by new constructional materials, including reinforced concrete and steel frames (Historic England 2017, 11). All denominations of Christianity were heavily influenced by the Liturgical Movement—which sought to facilitate the participation of the congregation— with new and existing church interiors designed to bring the altar nearer the congregation, both physically and spiritually. Methodist Central Halls combined worship space with offices, meeting rooms and communal facilities, essentially providing social as well as spiritual support, and many evangelical churches became associated with informal settings such as school and community halls. With shrinking congregations and a lack of regular services combined with increased pressure for new residential development, many 20th-century churches and church halls are threatened with closure and demolition, without record.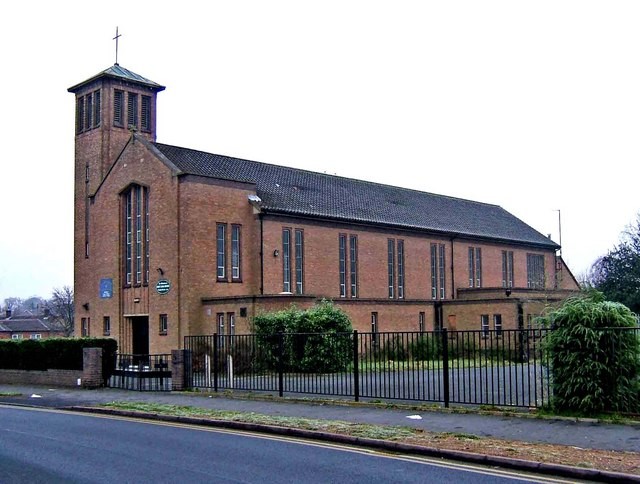 The Catholic Church of Our Lady and Pius X, in Habberley, Kidderminster, was built between 1966 and 1970 as part of a post-war estate. The church closed for worship at the end of June 2014 and a planning application for its demolition was approved in February 2017. With the demolition of the adjacent St. Johns Hall, originally built in 1965 as a replacement church hall for St. John the Baptist Church on Bewdley Road, and the Estate Pub, the Coopers Arms, the communal heart of the estate is undergoing radical change. Photograph © PL Chadwick and licensed for reuse under this Creative Commons Licence.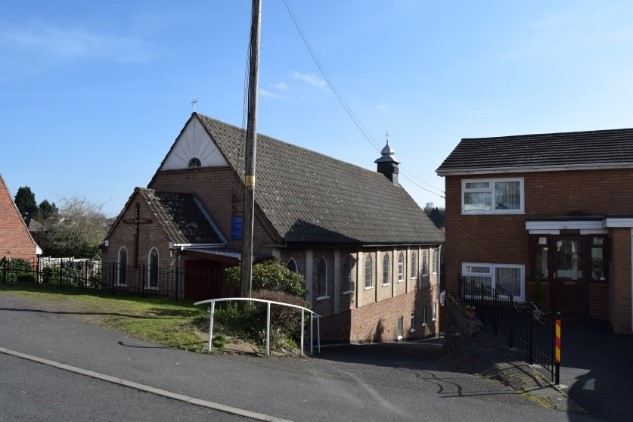 The Roman Catholic Church of Our Lady of Ostra Brama in Pitt Street, Kidderminster opened to serve members of the Polish community in 1963. Photograph © WCC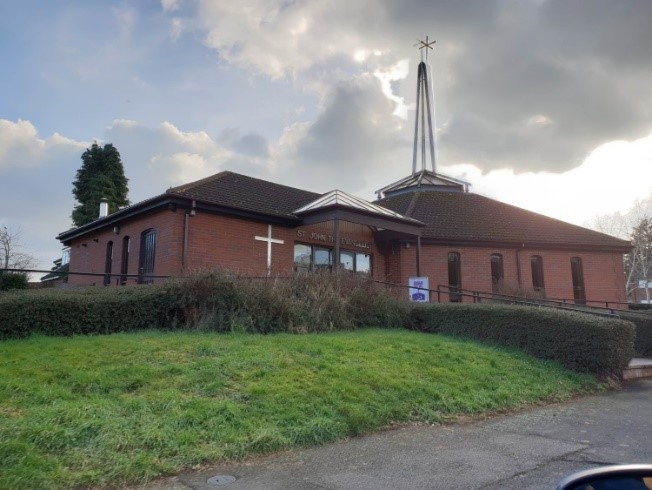 The Anglican Church of St John the Evangelist in Greenlands Redditch was constructed in 1990 and designed by Trinity Road Developments. Photograph © WCC
Crematoria landscapes
The design and landscaping of crematoria, as places for remembrance as well as internment, reflect changing cultural practices, behaviours and emotions. The 1902 Cremation Act gave Local Authorities new powers to construct crematoria. The Grade I listed Golders Green crematorium in London, dated to 1902, was the first crematorium in England where landscape design was considered from the outset (Historic England 2017. 6). Post-war the popular 'Garden of Remembrance' style layout, with its formal use of rose beds, rockeries, pools and shrubberies, often influenced by the Arts and Crafts style, with informality beyond, was replaced by more natural, woodland settings (Historic England 2017. 7).
The three years immediately before the Second World War were noteworthy for the unprecedented number (25) of crematoria opened in Great Britain. A further 15 were built between 1951 and 1954, despite restrictions on new building post-war. A new Cremation Act, which came into law on 26th June 1952, removed the former act's anomalies which had restricted further development.
With greater numbers came more experience of operating crematoria. Ever more people attending ceremonies came by car, and the close timing of services meant that there needed to be both a flow through the chapel – usually into the Garden of Remembrance – and somewhere for those attending the next service both to park and wait. Many architects found opportunities to express their ideas and to use new materials in working with this evolving form.
Bibliography
Commemorative Structures: Listing Selection Guide. (2 ed. 2017) Available here [Accessed 2018 – 2019]