Adding a New Layer: 20th Century Heritage in Worcestershire – Transport and Travel
In this final 20th century project blog, we focus on how transport and travel, and particularly the rise of car ownership and individual mobility, has transformed the landscape and how we live our lives.
Over the past two years Worcestershire's Historic Environment Record has been working to identify, record and better understand the significance of 20th Century buildings and public places across the County. Many more await discovery and assessment!
Funded by Historic England, this project has also aimed to strengthen the public's awareness and appreciation of 'everyday' 20th Century heritage, its conservation, value and significance. From County Small Holdings and Schools to Village Halls and National Chain Stores, this blog will explore the diverse range and legacy of our 20th Century heritage and celebrate the extra layer of richness it brings to both our lives and landscapes.
The growth of the national road network and then car ownership, from the 1920s, transformed individual mobility. Initially the preserve of the most affluent, by the 1960s car ownership was a realistic prospect for many families. Public concerns about the impact of development contrasted with growing demands for the exploration and discovery of rural and coastal landscapes and heritage. Motorways developed later than in other parts of Europe, from the late 1950s.
Worcestershire is world-renowned for being the home of the Morgan Motor Company. Founded in 1909 by H.F.S Morgan, Morgan cars continue to be produced at a factory, constructed between 1919 and 1923, on Pickersleigh Road in Malvern. Malvern is also home to the Santler Brothers who have good claim to be Britain's first makers of petrol-powered cars[1]. The Longbridge Plant – no longer in Worcestershire due to boundary changes – manufactured cars on a far greater scale. Opening in 1905, by the late 1960s Longbridge employed around 25,000 workers[2]. The plant continued to be an important centre for the West Midlands Car Industry until the collapse of MG Rover in 2005; limited production finally ceased in September 2016. Other notable motor car manufactures in Worcestershire include Castle Motor Co. Ltd in Kidderminster, Dellow Motors in Alvechurch, Enfield Autocar Company in Redditch and V. P. Webb in Stourport on Severn.
From the late 1920s facilities for mobile motorists, including petrol stations for refuelling and tea rooms, cafes, roadhouses and motorway service stations, for rest and refreshment, were developed across the country. Designs varied from the exotic, to the quaint and quirky. Many rural stations and services were intended to harmonise with their rural setting, designed in a simple, attractive style with hipped, tiled roofs (Morrison and Minnis 2012, 142). Since the 1980s, with the rise of out of town supermarkets, offering cheaper petrol and a more 'convenient' shopping experiences, independent petrol stations and services have become increasingly rare.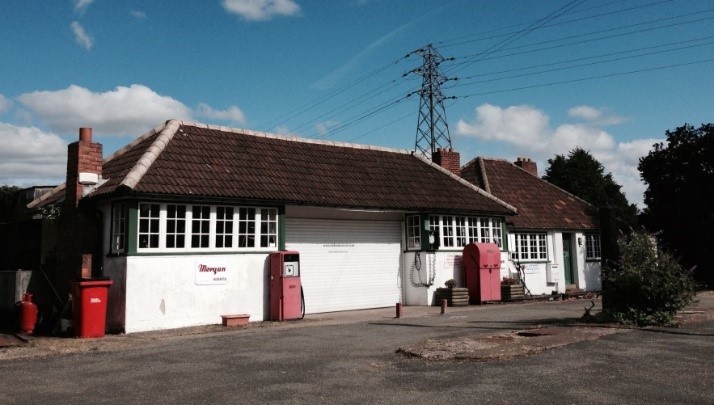 This recently demolished Morgan Garage in Hartlebury was first established in the inter-war period. At one time a busy filling station and tearoom, the site reflected a growing population of private motorists, from the 1920s, and was noted as an example of a little altered rural filling station, in Morrison's and Minnis' (with English Heritage) 2012, book 'Carscapes'.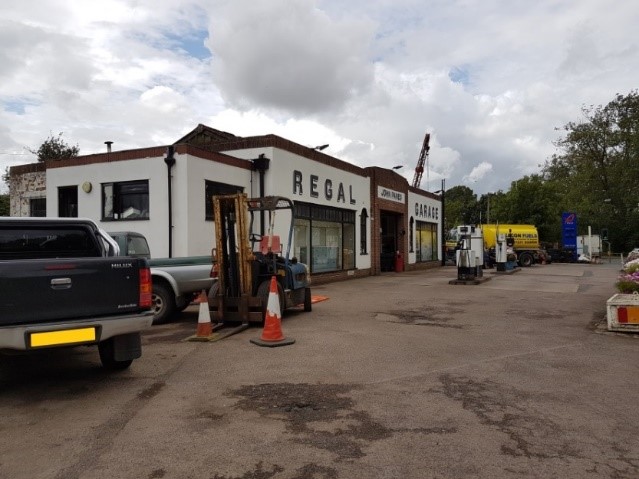 This Art Deco style garage in Upton upon Severn is full of character and a local landmark.
Cars, of course, are not the only significant motorised vehicle of the 20th-century. Motor bus services in England were introduced in the 1900's and quickly replaced the horse-drawn bus. In Worcestershire a number of companies offered services, but the First World War led to the dominance of one, "Midland Red', which seems have been due to their choice of vehicle. Their first buses were made by Tillings Stevens who used a hybrid petrol engine/electric motor driving system. This was unpopular with the Army and consequently their buses were not always requisitioned, as other companies' buses were. In 1914 'Midland Red' started services from Birmingham to Stourbridge, Redditch, Kidderminster, Stratford upon Avon, Great Malvern, and Evesham replacing horse drawn services.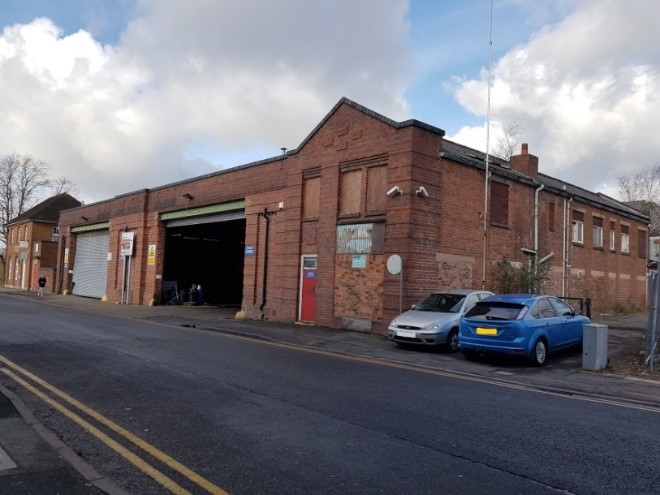 Although Midland Red buses had been in Redditch since WWI it was not until 1931 that this garage and depot opened in the town.
Early shelters, provided for waiting passengers, came in a variety of designs. Some were inspired by the local vernacular, designed to blend in with their surroundings by adopting local materials, colours and architectural details. Others adopted bolder Art Deco designs, or the functional simplicity of early brutalist architecture. Many rural settlements in Britain erected bus stops as part of the 1951 Festival of Britain Celebrations and then later as part of the 1953 Queen's Coronation Celebrations.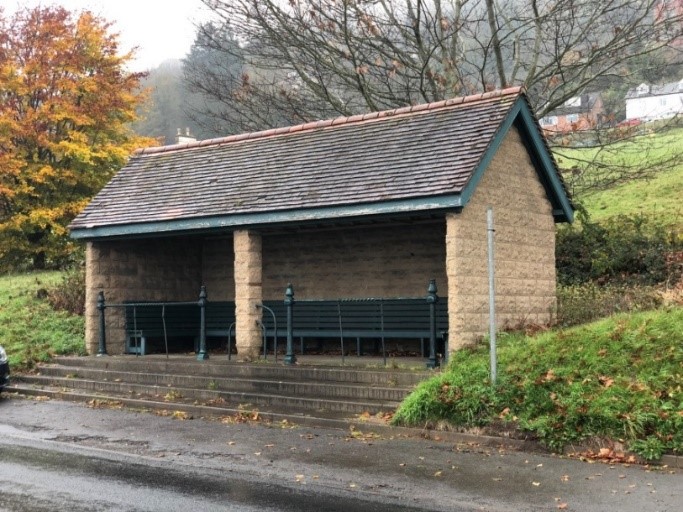 This bus shelter in Malvern was designed in the local vernacular to blend in with its built and natural surroundings, others in the town adopted bolder modern or simple functional styles.
Bibliography
Morrison, K and Minnis, J 2012, Carscapes: The Motor Car, Architecture and Landscapes in England. London: Yale University Press, in association with English Heritage
[2] Wikipedia: Longbridge Plant