Walking With Animals: Along Drove Roads & Ancient Byways
Walking through the landscape – a pastime for some and lifestyle for others. Drawing on excavations of an Iron Age site, our Environmental Archaeologist Liz Pearson continues our exploration of prehistoric landscapes. In this blog, she traces the footsteps (and hoof prints) of ancient herders from the past to present day.
A stream of animals came all at once: mostly sheep, a few cattle and a couple of goats. Out of the mist, and along a drove road, behind them ran two young boys. They were shouting and waving sticks, trying unsuccessfully to round up the stragglers; until a man on a horse appeared. Soon enough, there was an orderly rumble of hooves going in the right direction. They were funnelled between deep ditches into a large round enclosure. Gates opened, then sheep, goats and cattle were separated from each other in different pens.
Some of the animals had come from another farmstead just to the north, and some from far away. From near and far, they walked with herders, along drove roads, saltways, round the contours of a hill, and along every kind of ancient byway. Some had come from the most western parts of the British Isles.
The herders stood on a low ridge, looking south towards the higher ridges of Edge Hill and the Cotswolds, and beyond to other settlements like theirs.
We Found a Banjo In a Field
This discovery was over 2,300 years later, in the same field which heard the rumble of hooves down a tunnel-like entrance into an enclosure. This was not a lost or discarded musical instrument, though. We found the footprint here of a banjo settlement that existed in the middle Iron Age.
We stood in the middle of the body of the banjo. From the centre of a large round enclosure, we looked towards the entrance extending into a neck, or funnel, pointing towards lowland farms below. Although we weren't walking with animals, the journey of discovery started with walking along a ridgeway, through fields that we were about to excavate.
Once we opened up the ground, we found deep ditches, earthen ramparts, the footprint of roundhouses, and remains of curious enclosures which we think our occupants used to corral livestock. We dug animal bones and pottery out of pits near the roundhouses. The funnel entrance flared out like antennae, perhaps beckoning in sheep and cattle, collecting in those stragglers resisting the calls of the young herdsmen in another age.
We're just east of Lighthorne Heath in Warwickshire which is, today, close to the Jaguar Landrover factory and the British Motor Museum.
The settlement is like others of its type. For we often find them on high ground, their entrances facing downhill, towards rivers, streams and farmsteads below. Or they're at the head of a river or stream, looking down the valley. They're connected into a wider farming and trading landscape. Some researchers call this 'banjo syndrome'.
Some are part of a group of two or three, and these groups may well have belonged to communities connected over long distances. What did they use them for? We think, seasonal trading camps, feasting sites and high-status pastoral farms are all possible. Their use may have changed over time too.
Banjo Country
Archaeologists first spotted these settlements in Wessex, then they appeared in Hampshire, Dorset and Wiltshire. Lately, they've found some in the upper reaches of the Thames Valley and the Cotswolds, with a few others scattered across the country too. Our banjo is one of few outside the banjo heartlands. It's not a stretch of the imagination, though, to draw a curving line slightly south, round the clay ridge of Edge Hill in south Warwickshire, and into the Cotswolds, leading towards the heart of banjo country.
Drove Roads and Ancient Byways
People have long moved around with their animals. They've decamped every spring, from lowlands up into the hills onto newly emerging lush pastures. And they've travelled from farmstead to farmstead with livestock for exchange. Herds in distant places need new blood, after all. Along with live animals, they may have traded animal products, such as skins for leather, horns for hornworking, and worked bone for everyday household items. People also walked with animals to feasting sites. So, at certain times of the year, they brought their food with them on the hoof.
We know little about this exchange, but many researchers see signs that communities using one banjo site were connected to others.
A Life Etched into Their Bones and Teeth
What about their animals? Did they walk them from place to place? We want to know. An animal bone specialist has looked at the bones from our site. She found that our banjo occupants discarded mostly sheep or goat bones into pits and ditches, but there were also many cattle, some pig and occasional horse bones.
She noticed that sheep or goat foot bones were mostly missing: the very bones which tend to remain attached to skins. Did our local pastoralists export vellum from the site? They seem to have culled and butchered cattle on site, so were the cattle born here?
These are questions we can ask. Now we're turning to science to help answer our questions. For, the life an animal has lived is etched into its bones and teeth. The same is true for people too. All the time we're taking in elements from the water we drink and food we eat. And, as we do, those elements sink into our bones and teeth. Oxygen, stronium and sulphur, in particular forms, which are stable over time. These are stable isotopes, and we can measure them.
From Wales to Worcester?
Researchers from the University of Durham have measured these isotopes for us before. We gave them cattle teeth buried on a Roman settlement on the site of Worcester's historic cattle market. Drovers have long travelled west to east along drove roads passing through Worcester; that's well known. But we wanted to know, did they do so in Roman times too?
Read Where did the cattle come from in Roman Worcester to find out.
All those animals that lived on our banjo site munched grass and drank water, taking in oxygen, strontium and sulphur isotopes throughout their lives. What might their stable isotope signals tell us? The results might suggest that animals have been brought in from elsewhere. Or, in time, stable isotope signals from animal remains on distant sites might point towards our banjo. We aim to find out.
Rediscover Droveways and Ancient Byways
Many of us love a journey. We put on our hiking boots, lift up our rucksack and pick up our walking guide. Or, we saddle up, fill our bike panniers, and head off onto country roads. Might we have a wanderer in our DNA?
Perhaps it's time to tap into your inner wanderer? You could help rediscover drove roads, saltways and ancient byways. By doing so you'll help protect those rights of way, and often into the bargain, the landscape through which they pass. We protect what we know, and by connecting with landscape, it might just be that wanderers and outdoor enthusiasts are the most likely environmental campaigners.
To walk known drove roads and discover sections of road hitherto unrecorded, a good place to start Recognising the Routes, is with localdroveroads.co.uk. Find the clues; look for Welsh Road, Halfpenny Green, Field or Lane, or Little London, and more. Dive in deeper and read The Drovers by Shirley Toulson. Look at historic maps through Worcestershire Archives, or your local archive service.
We may eventually find that these historic byways have roots extending way back into the past. Maybe our banjo dwellers walked routes that later became drove roads, saltways and other byways?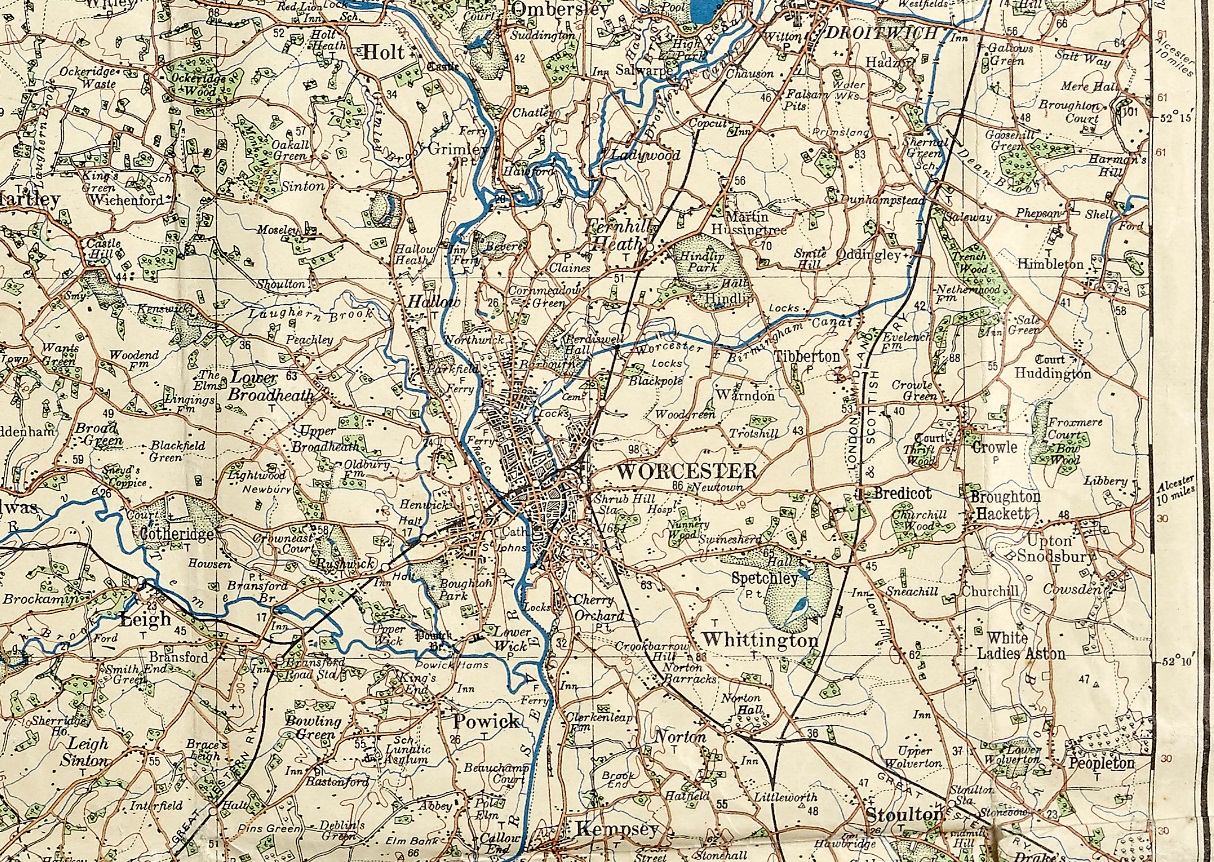 Experience a Life Lived With Animals
In Animals and Ancestors: Bones From the Pyre, I suggested that a life lived with animals could be in our DNA. It's likely that our banjo dwellers depended on their livestock, just like the people cremated and laid to rest in the Bronze Age round barrow revealed during excavations at Meriden Quarry, near Solihull.
Few of us now work with animals, but some farmers and shepherds still drive sheep and cattle on foot, usually over short distances, in more remote fells and highlands of the British Isles. For most of us, maybe we re-live this life as dog walkers and horse riders? Walking with alpacas is becoming popular too. You may find somewhere near you to take a journey with alpacas.
If you have a hankering for setting off on a long trail, and trekking with animals, maybe it runs in your family? Check out your ancestry – look for drover/driver/herd/herder/herdsman surnames. Or, similarly as occupations. Visit online genealogy sites like Ancestry or Family Search. Visit Worcestershire archives, or your local archive office.
Acknowledgements
Thanks are due to Orion Heritage who commission the field work at Lighthorne Heath, and to Milena Grzybowska who studied the animal bone from the site.
Other tales from prehistoric landscapes
Fascinating stories are found in the smallest of archaeological clues: charcoal and pollen. Recent analysis illuminates the prehistoric landscape at Meriden in the West Midlands and choices made by our ancestors 3,500 years ago. To kick off this blog series, we begin by setting the scenery – literally!
Animals & Ancestors: Bones from the Pyre
What do animals mean to you? For our second blog in the series about prehistoric landscapes, we explore the tale of two Bronze Age burials, their unusual choice of animal companions and relationship with the land.