Childhood Tales – A Worcestershire Young Archaeologists Club Project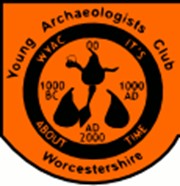 Worcestershire Young Archaeologists Club has been running for 18 years, providing archaeological and historical activities for 8-16 years old. It is supported by Worcestershire Archive and Archeology Service, and we encourage it and members have staff have been leaders or have helped run specific events. Over the next few days we are sharing about a project they've been working on.
WYAC have been working on a project, Childhood Tales, as part of the From Ordinary to Extraordinary project, funded by National Lottery Heritage Fund. From Ordinary to Extraordinary encouraged groups to think about underrepresented archaeology or history. We thought we would look at childhood and children. Several times our sessions have touched on this, and how it is difficult to understand childhood in the past through the archaeological record or through archives. The members have found this fascinating so thought that this would be a great topic to look at.
This week the results of the project will be shared on social media. We are supporting WYAC by hosting their blog posts, and by resharing tweets, Facebook posts and Instagram posts. We hope you enjoy them!
Why are children underrepresented within archives and archaeology?
We asked members for their thoughts after running our first sessions
Childhood was different in the past. Children were expected to help with work as soon as they could.

Toys and games would mostly be made of whatever they had to hand and wouldn't last so archaeologists wouldn't find them. Mum and dad wouldn't be able to afford to buy toys.

It can be hard to work out whether an archaeological find used by children or adults, and we can assume that most things are for adults.

In the past people wouldn't ask children their views or thoughts. A lot of what survives are official records and don't tell us what life was life for children. Even School log books are written by Headteachers and doesn't give what children thought. Children often had to just do as they were told.
WYAC Events
December
The Christmas event was at Avoncroft Museum. As we went round we spoke to some of the volunteers in the buildings and asked them whether there was anything in the building relating the children, or how children would have used the building. The buildings were decorated for Christmas.
Windmill – "we were told that the miller would get his children to help as soon as they were old enough to help. It would have been hard work, and a bit dangerous"
Tollhouse (Turnpike Road) – "We were told that large families lived here, according to the census and records. Up to 8 children! But only 2 bedrooms. There would not have been much room. It was decorated with stocking at the end of beds, but children in Victorian times didn't get many presents at Christmas.
Prefab – "these were built at the end of the Second World War to replaced bombed houses. It had several examples of presents children may have had in the last 1940s. These included books, jigsaws, dolls and an aeroplane."
January & February
The first events of 2022 looked at different ways we can find out about children and childhood in the past. Some of these used the resources held within the WAAS collections.
Portable Antiquities Scheme – we had a search of this database to find items which could be linked
Toys and games – we had a go at some games such as dominoes, marbles, playing cards, tiddlywinks and Nine Men's Morris. We then though of what game we could create from some random objects. Children in the past (and today) make up games from whatever they find, as well as buying games.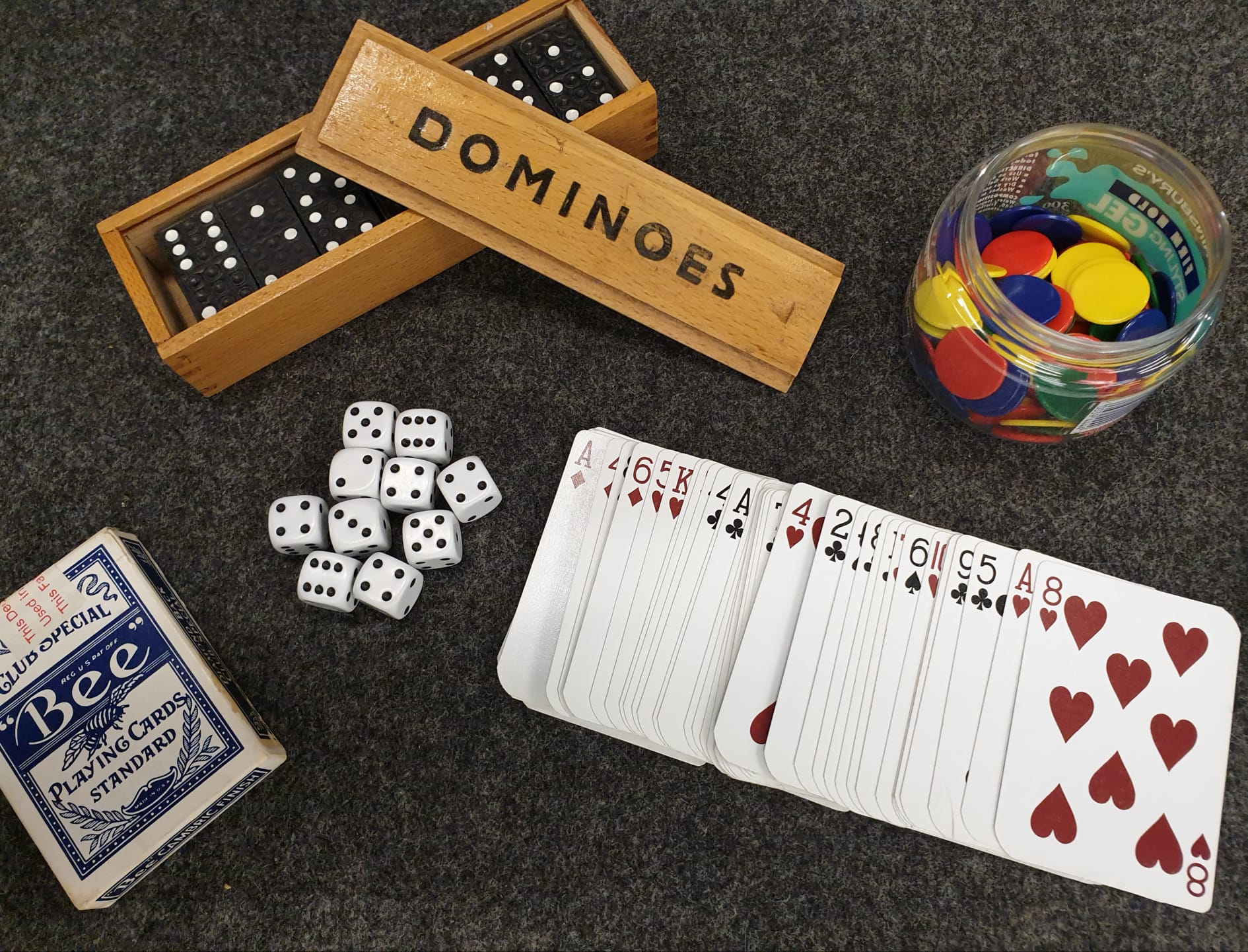 Letters from the Past – in the archives are a collection of letters written by children in Pershore and Badsey about market gardening. This was for a BBC radio programme. It's a re example of children giving their views.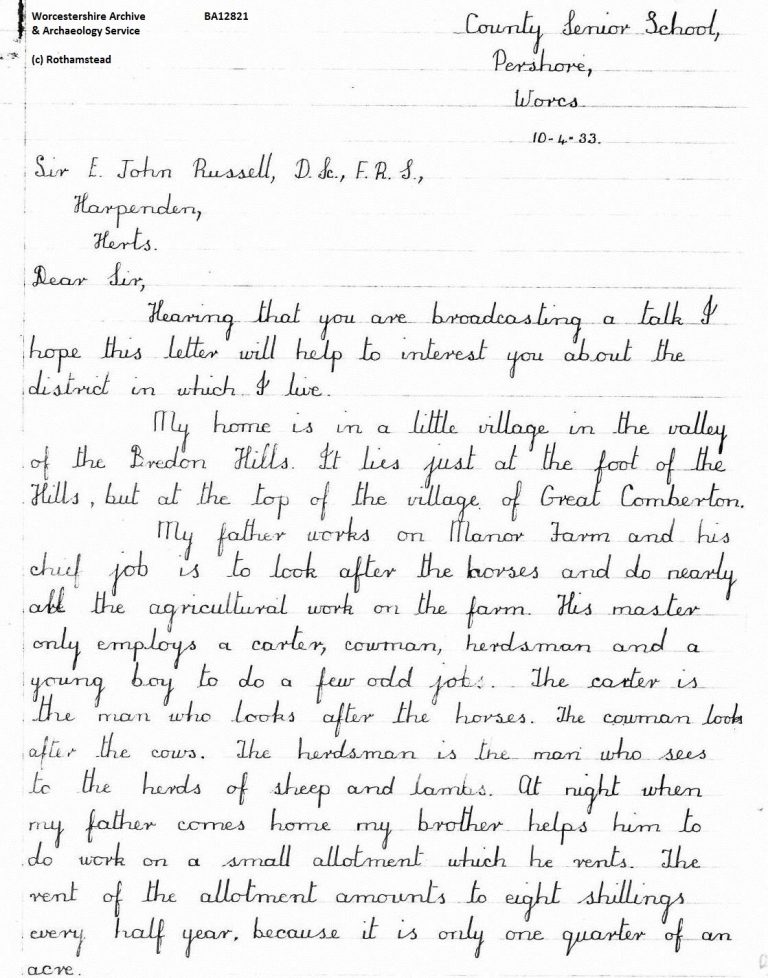 Log Books – we looked at school log books for WWI period, here in the archives. As well as the usual daily activities it would mention children working on the land and helping with harvests, and the difficulties heating the school. There was also lots of mentions of illnesses, including measles, mumps, scarlet fever and influenza. Some of these were fatal, and other caused children to be off school for months.
Victorian Poor – using a range of sources we discovered what life was like in Worcester, including where they would go for help and how many toilets and water pumps there were and how many people shared these.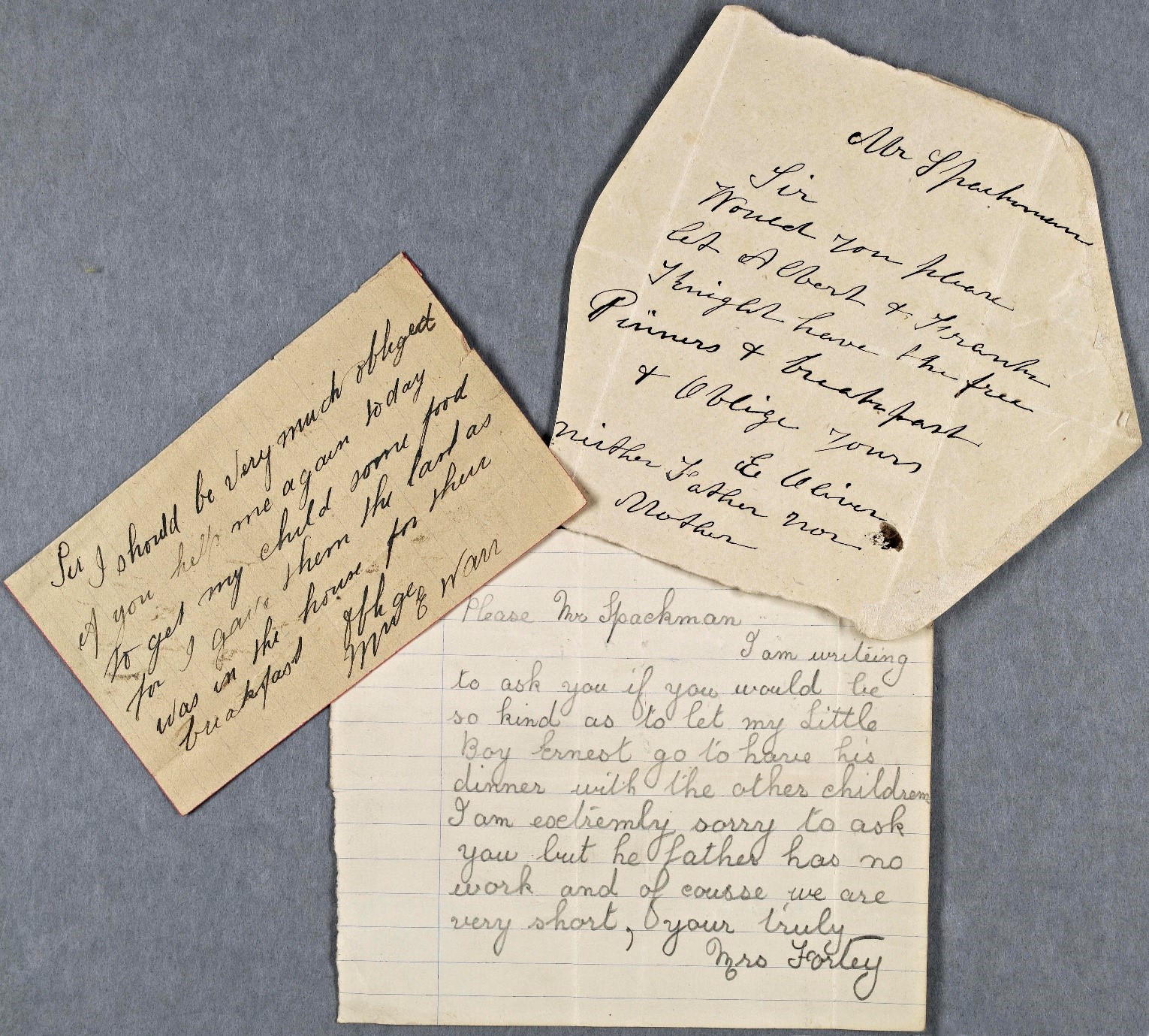 Prehistoric Burials – we looked at an example of a prehistoric child burial to see what this could tell archaeologists.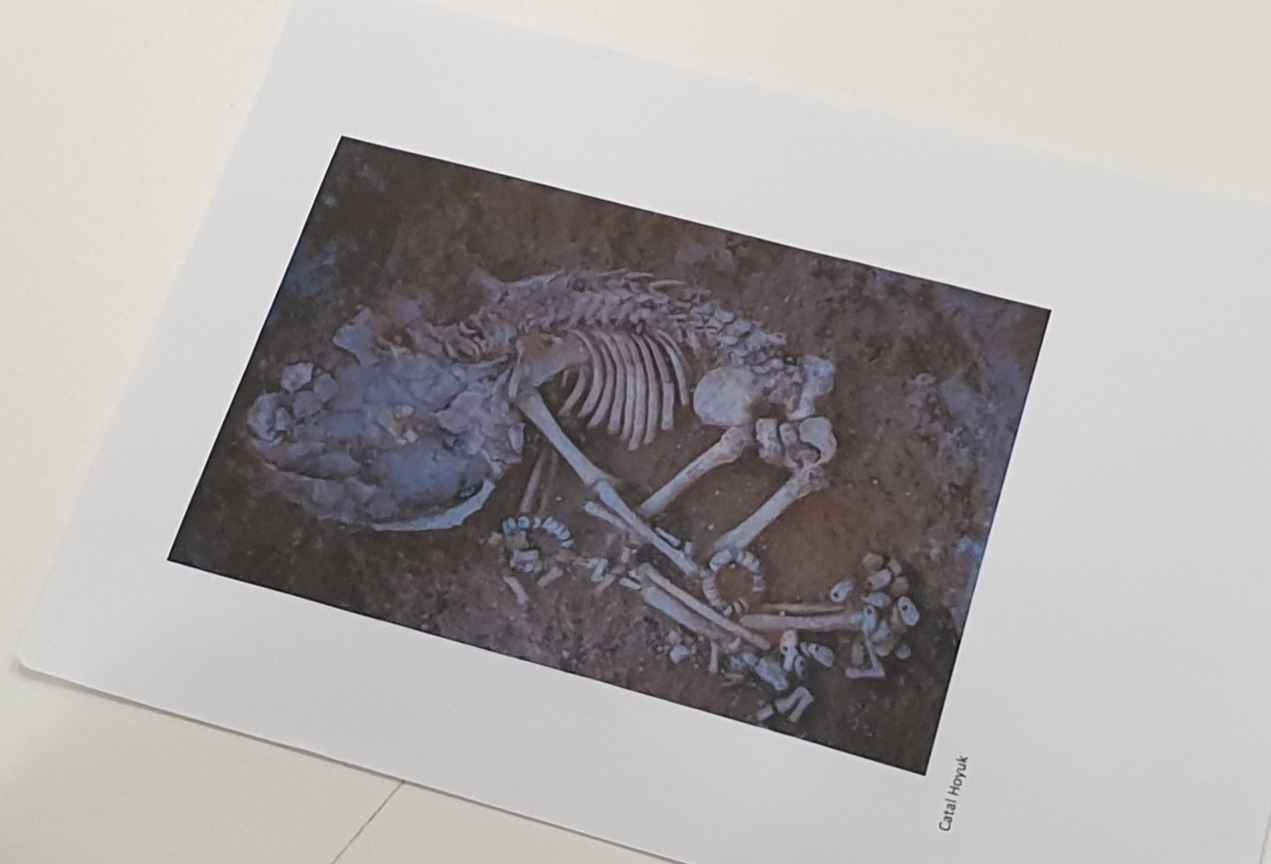 What I discovered…
We asked members what they found out about children through these sessions.
Fewer child burials survive than adult burials, so archaeologists have less information.

Most written records are by adults and don't mention children.

In Victorian times children could be apprentices for 7 years. They couldn't get married or go to the pub without their master's permission, and had to obey their master. However they got to learn a trade and were fed and got a bed.

When families were poor in Victorian times the parents would write to the School board to ask for help. They would ask to have breakfast or free school meals, similar to today but you had to ask. Some Mums wrote that they had to feed their children bread and lard.

Some children in Victorian times lived in 'Courts' which were houses around a courtyard with lots of families sharing the rooms. Over 50 people may share 2 toilets! We don't know what the children thought about this.

In 1930s lots of families near here were Market Gardeners. Letters which were written by children describe how hard life was, and how lots of children had to help their Dad. They might work before and after school and at weekends.

In World War I lots of children would help on farms. Some would leave school early and others would be off school for the different harvest (peas, potatoes and other food). Lots of schools organised Blackberry hunts, when they would go blackberry picking and send the fruit to be made into jam to send to soldiers. This was allowed by the Government. We don't do that today! Some children even collected conkers for the war effort to help with making bombs.

During WWI schools had lots of shortages. Some had no coke (a type of coal not the drink) so had to close in winter when it was cold.
Members were asked to investigate an aspect of childhood which interested them outside of WYAC sessions. This could include speaking to older relatives to find out from personal experience what life was like in the past. We'll share some of these in future blogs.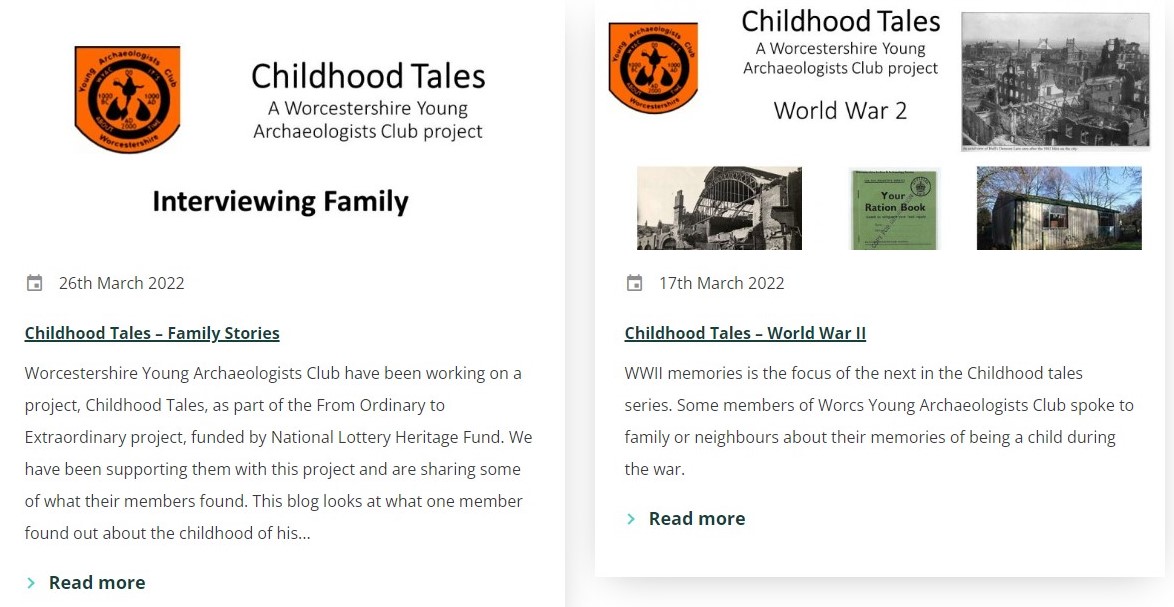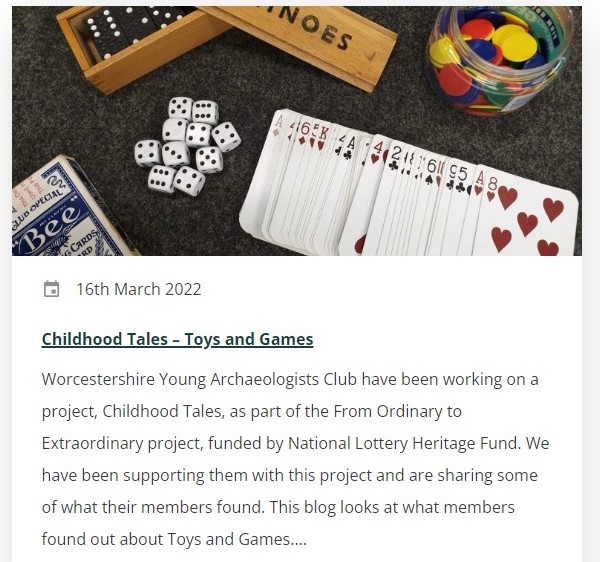 From Ordinary to Extraordinary is part of Shout Out Loud, English Heritage's national youth engagement programme. Shout Out Loud is funded by the National Lottery Heritage Fund's Kick the Dust programme. http://shoutoutloud.org.uk

2 responses to "Childhood Tales – A Worcestershire Young Archaeologists Club Project"