Gypsy Roma and Traveller History Month 2022
GRT History month has been celebrated in the UK since 2008 with the aim of tackling prejudice, challenging myths and amplifying the voices of Gypsies, Roma and Travellers in wider society. Head to the  Gypsy, Roma and Traveller History Month 2022 – Friends, Families and Travellers (gypsy-traveller.org) page for information and advice.
Gypsy Romany and Traveller Resource Folder
At Worcestershire Archive and Archaeology Service we have a folder containing an index to Gypsy Romany and Traveller families who have passed through Worcestershire. Only a month or so ago it was used to help a member of the public, interested in tracing his family history – his mother once lived near Flyford Flavell and left to marry a gypsy. It took him by surprise to learn we have such a resource!
The folder contains a short an introduction about gypsies and travellers, by researcher B. Wall, who put together the index. It also features an article from Family History News and Digest, titled 'A Romany in the Family'. The folder has moved from its usual spot on the top shelf closest to window in self-service area on Level 2, to our 'cube stand' by our Explore The Past desk for the month.
Vardos
A wonderful description in the introduction tells us how 'horse drawn caravans (Vardos) began to replace bender tents during the 19th Century. Travelling down the Worcestershire country lanes the rumbling wheels go. Chickens uncomfortable in wooden cages, dogs running loose and the colour of the caravans, it was a familiar sight in the 1960s.' You might also be aware that Museums Worcester has a collection of Vardos and this month at Hartlebury Castle, 14 June 2022 you can catch a Bite size talk: An introduction to the Vardo collection – (museumsworcestershire.org.uk)
Family History
Designed to help researchers with Romany routes, the folder is organised by well-known gypsy names. The bulk of the index points to entries in parish registers.  These relate to families who travelled through Worcestershire, those who took the opportunity to baptise their children, with several often baptised together.
Burials could be elaborate ceremonies, gathering of the clans and burning of the Vardos. Sometimes the deceased was laid to rest by the roadside or a christian burial took place. The note next to the burial entry for Matthew Lock, below, tells us he was Father of the gypsies, died in one the Hollings Fields, aged 100.
Insights provided by parish registers
The occupations and descriptions noted can quite obviously suggest the person was viewed as a traveller, whilst other notes are less obvious. To a degree they provide tiny snapshots into their existence, all be it from an outsider's point of view, and so, even for someone without Gyspy, Romany or Traveller ancestry, the folder is an incredibly interesting resource. Here is a selection of extracts from the parish registers, including occupations:
'Abode: Tandy's Lane'
'Abode: Near Thumper's Hill'
In lane and under hedges in Shrawley
***
'A Stranger'
'A wondering woman'
***
'Travelling Tinkers'
'Higgler'
'A Tinman'
'Hawker'
'Chimney sweeper'
'A Basket Maker'
'Hoppickers'
Other Resources
We also have printed material in our local Studies library at shelf mark 305.8914.  These are reference only, so maybe stop by the cafe for a coffee/snack to bring up with you to level 2, before selecting your preferred book and settling into a comfy bucket seat to have a read.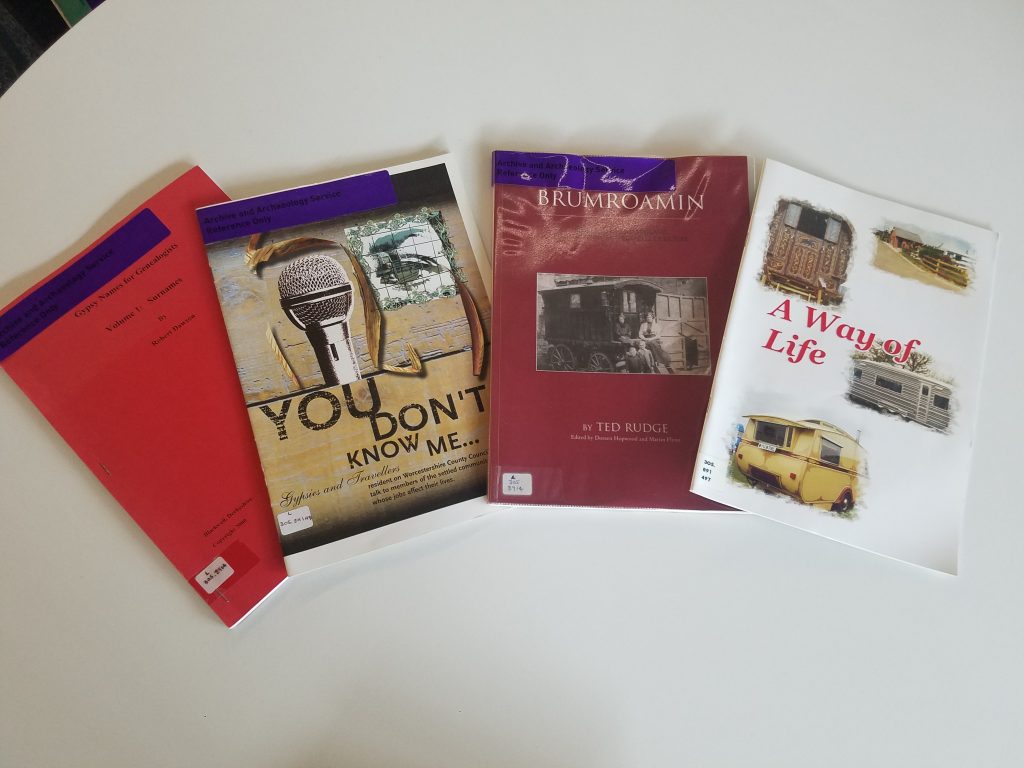 Other resources relating to Gypsy Romany and Travellers available in the original archives area include:
WCC analysis department reports and correspondence 'Gypsies' 1965  ref 463.02 BA9370/14 & 15
County Planner Planning Department Proposed Gypsy site at Pinvin 1961-62, ref 471.02 BA8958/5 (ii)
County Planner Planning Department Newscuttings 1970-73 ref 471.02 BA8958/5 (iii)
County Planner Planning Department Newscuttings about Gypsies in areas out of Worcestershire 1970 -73 ref 471.02 BA8958/5 (iv)
Photos:
Search Survey Photos (worcestershire.gov.uk): 'Gyps' results
Search Survey Photos (worcestershire.gov.uk): 'Romany' results