Adding a New Layer: 20th Century Heritage in Worcestershire – Recreation and Sport
Sites, buildings, structures, features and areas of land associated with sport, leisure and entertainment illustrate one of the most historically significant aspects of social life in the later 19th and 20th centuries, a shortening of working hours and an increase in leisure time. Buildings associated with leisure and entertainment remain, in the large part, highly valued by local communities. Despite this many are at risk of decay and demolition as a result of contemporary leisure patterns.
Over the past two years Worcestershire's Historic Environment Record has been working to identify, record and better understand the significance of 20th Century buildings and public places across the County. Many more await discovery and assessment!
 Funded by Historic England, this project has also aimed to strengthen the public's awareness and appreciation of 'everyday' 20th Century heritage, its conservation, value and significance. From County Small Holdings and Schools to Village Halls and National Chain Stores, this blog will explore the diverse range and legacy of our 20th Century heritage and celebrate the extra layer of richness it brings to both our lives and landscapes.
The introduction of shorter working hours and public holidays from the late Victorian period, and the passing of new legislation such as the 1938 Holidays with Pay Act, afforded the middle and working classes greater freedoms to enjoy long-standing and new forms of leisure and entertainment. These included sport, railway excursions, fetes and fairs, bands in the park and music at the music hall or winter gardens.
This led to the growth of the entertainment and leisure industry and the development of facilities for mass entertainment including theatres, dance halls and cinemas. The 1909 Cinematograph Act, the first legislation to regulate the film industry, introduced a strict building code, stimulating the development of new purpose-built premises as well as the conversion of older buildings. The years 1928–30 saw the emergence of a new technology – talking pictures – and the establishment of large 'modern' theatre/cinema chains like Gaumont, ABC (Associated British Cinemas) and Odeon, which epitomised Art Deco and Moderne styles and exuded Hollywood glamour. (If you are interested in Worcester Cinemas, we published a blog last year about them, inspired by the memories of Claude Bernard Leake).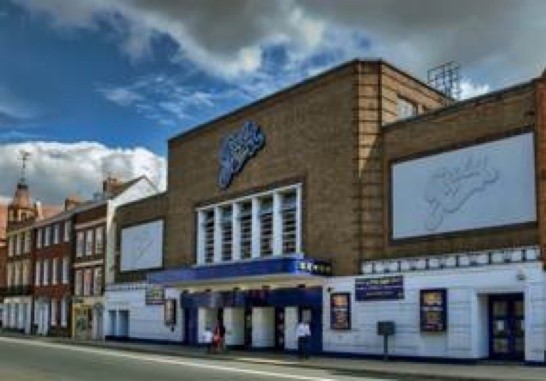 Worcester's Gaumont Cinema, now Gala Bingo, on Foregate Street, opened in 1935 and was designed by W.E. Trent & Earnest F. Tulley in the modern style. Built opposite the Silver Cinema (1919 – 1939), the Gaumont could seat 1,740 patrons and had been built to replace an earlier cinema of the Provincial Cinematograph Theatre chain, located on St Swithin's Street. (British Brick Society).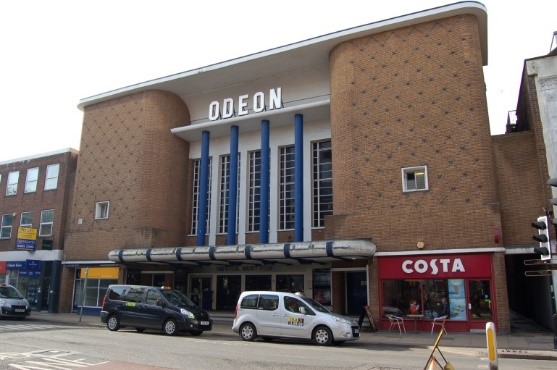 A second large cinema on Foregate Street, The Odeon, was designed by H. W. Weedon's practice as early as 1938–9, but didn't open until 1950, owing to the War. The building, with its prominent brick flanking wings with rounded corners and front faces decorated with a diamond pattern, is a fine example of the Odeon Company's bold brick house style.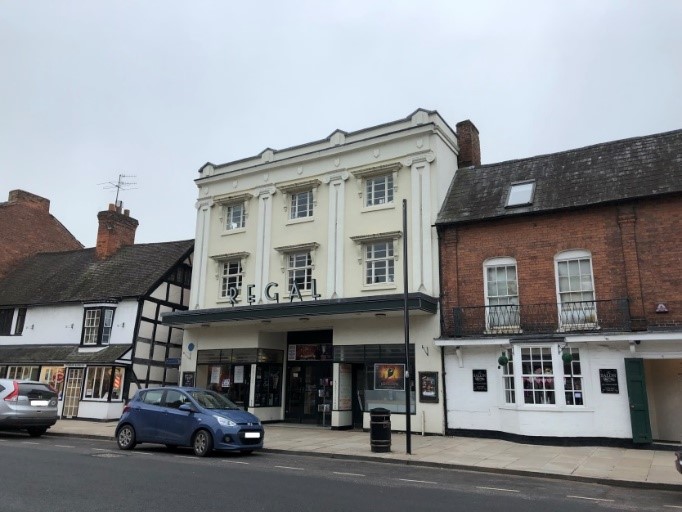 The Regal Cinema in Tenbury is one of three 'Regal' cinemas recorded in the county (the others being in Evesham and Bromsgrove). It is Grade II listed and was built in 1937 by Ernest Roberts for Clifton Cinemas. Roberts of Birmingham is well known as being skilled in designing appropriately-scaled cinemas for small market towns. The Regal in Tenbury is a very rare survival with a well-preserved interior, including contemporary murals.
Although fewer theatres and cinemas were built from the mid-1940s the emergence of the modern teenager, in the 1950s and 1960s, with their own ideas about fashion, identity and music, offered the entertainment industry a whole new market, with its own increasing economic power and personal mobility. Dance halls thrived, to be joined from c.1961 by ten-pin bowling; discotheques started to dominate with the greater availability of 45 rpm records and modern turntables in the early 1960s. Going to the pub also became more acceptable, particularly for women, and more restaurants began to appear.
The growth of commercial television, from the 1960s, led to a decline in audience numbers which, along with high maintenance costs led to the demolition of theatres and cinemas across the country. Changing economic circumstances and the availability of non-flammable film ensured that from the late 1950s (and particularly from the early 1970s) new cinemas were almost always built as part of integrated, multi-purpose civic complexes, many older buildings, such as the Gaumont on Forgate Street in Worcester, were converted into bingo halls (a hobby introduced from Australia around 1960) or music venues.
The number of cinemas in the UK has fallen dramatically since World War II and whereas some local buildings have been saved and lovingly restored – for example the Grade II listed, 1932, Art Deco Regal in Evesham, re-opened in 2012 after a major restoration project and the Grade II listed, 1936–38, Art Deco Northwick Cinema in Worcester reopened as a furniture store in 2006 after being closed for ten years – others have been less fortunate.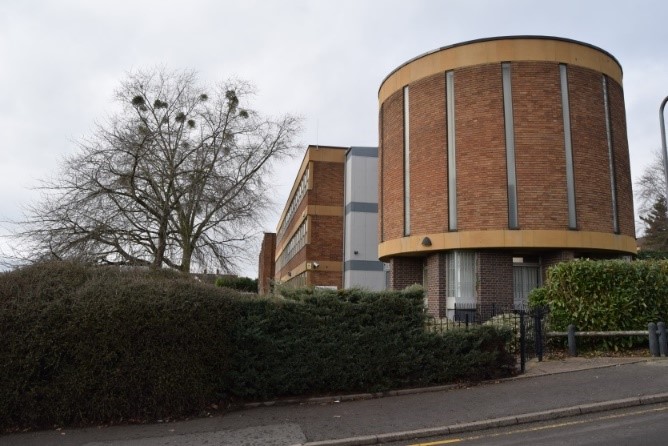 Stourport's Civic Centre was commissioned by the former Stourport Urban District Council and designed by Andrews and Hazzard of Birmingham in 1963. As well as hosting offices for Local Government, the centre incorporated facilities for music, dancing and leisure. After being threatened with demolition in 2011 a public campaign was launched to save the centre.
Priory Park in Malvern, formally known as the Winter Gardens, was laid out in the late 19th-century. In 1928 the assembly rooms were converted into a theatre and the conservatory a ballroom. A. V. Rowe added a new concert hall extension in 1951 and the complex was again remodelled in the late 20th-century. Now part of Malvern Theatres, the complex continues to be a centre for the arts and music, in Worcestershire. The former Winter Gardens complex in Droitwich, built in 1933 next to the town's Brine Baths, and reputedly having the best sprung floor in the county, was less fortunate. Converted into a cinema in the mid-1970s, it finally closed to the public in 1983 and was one of several interesting late 19th– and early 20th-century buildings demolished in the town in the latter half of the 20th-century.
Increasing awareness of the moral and physical health of the nation, during the Victorian era, facilitated both the development of professional sporting bodies – including the Football Association (founded in 1863), the Rugby Football Union (established in 1871) and the Lawn Tennis Association (founded 1888) – as well as local facilities for sport and recreation including stadiums, grounds, greens, racecourses, grandstands, pavilions, lidos and swimming pools. By the early 20th-century sport had become an important part of British culture, both at home and across the Empire, and after the First World War it was actively promoted by Central and Local Government.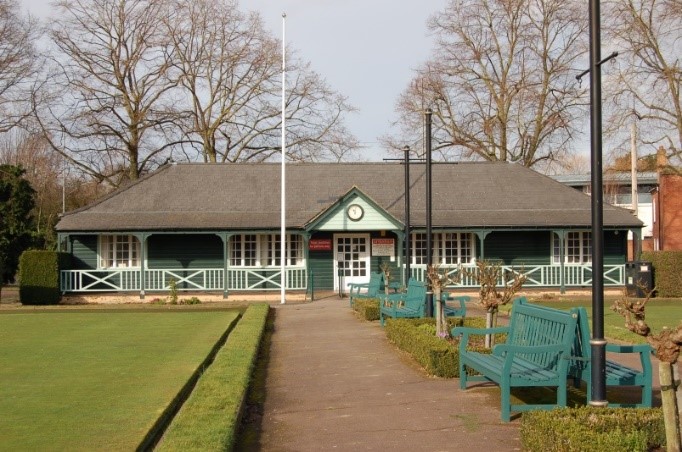 Structures associated with sporting heritage – ball games and racing in-particular – rarely predate 1940 due to the constant need to rebuild and re-fashion them for changing standards of comfort, health and safety. The Bowling Green and pavilion at Cripplegate Park in Worcester were built at some point in-between 1928 and 1940. The green in still well used by teams from across the city and Malvern Hills District.
Despite lidos, tennis and bowling clubs and parks being in the forefront of improved provision of facilities for women and children, and for families, mass sport continued to be dominated by men. Employers, who recognised the importance of a happy, healthy workforce, encouraged the formation of works teams and sport became an integral part of military training and, during both WWI and WWII, army life. With the establishment of the British Broadcasting Company (BBC) in the late 1920s, sport was able to reach new audiences around the world and by the 1940s and 1950s governments looked to sport to help restore Britain's post-war economy and civic pride as well as strengthen its changing identity as a declining world power.
Sports or Leisure Centres are a more modern building type, having come into being as a result of the 1960 Wolfenden Report on Sport and the Community; they typically provide for a variety of both wet and dry sports. Indoor swimming pools can be lavish displays of municipal architecture as well as making use of new developments in reinforced concrete and laminated timber.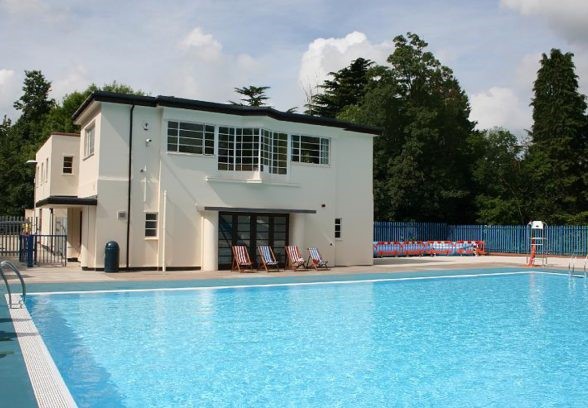 Complete outdoor swimming baths or lidos of the period to 1940 are now rare. Droitwich Spa Lido, designed by Thomas H. Mawson & Son, is one of the most well-known examples of 20th-century sporting heritage in the County. The lido, which opened in 1935 to much fanfare, was marketed as the 'seaside of Droitwich Spa' and located on the edge of Brine Baths Park (an early 20th-century public park with bandstand and sporting and leisure facilities). The pool was filled with diluted brine from local streams. After falling out of use and into disrepair in the 1990s, the lido was re-opened in 2007, following a well-supported public campaign. Photograph © c20th century society.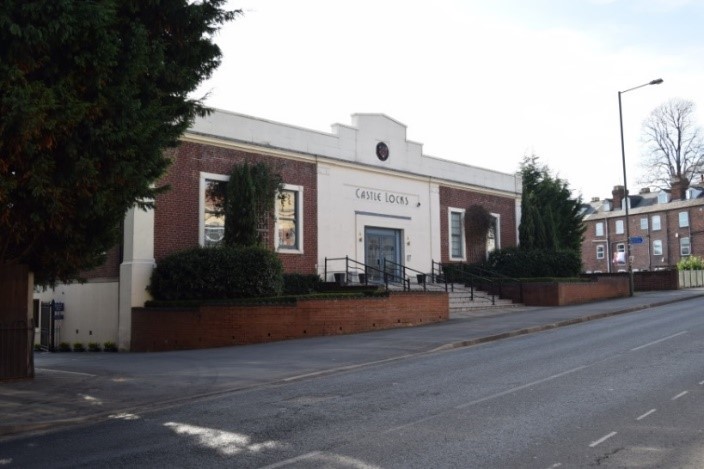 The former Swimming Baths ('Castle Locks') on Castle Road in Kidderminster, dated 1931 and designed by Joseph Hawcroft, is one of a number of interesting 20th-century buildings in the Green Street Conservation Area.
Many of Worcestershire's leading sports teams formed in the later 19th or early 20th-century, including Kidderminster Harriers (founded in 1886), Worcestershire County Cricket Club (founded 1865), Worcester Warriors (formally Worcester Rugby Football Club, founded 1871) and Worcester City Football Club (founded 1902). The Victoria Ground in Bromsgrove, now home to Bromsgrove Sporting Football Club (founded 2009), was previously home to Bromsgrove Rovers, who played there between 1909 and 2010.
With major rivers, including the Severn, Stour and Avon, flowing through Worcestershire, it's no surprise that water sports, such as rowing, boating and canoeing, also have a long history throughout the county. Worcester Rowing Club, for example, was founded in 1874, following the amalgamation of several separate members clubs, while Evesham Boat Club, later renamed Evesham Rowing Club, was founded even earlier in 1863.
The development of modern stadia, on lower cost, out of town sites – a growing trend since the early 1990s and the publication of the Taylor Report (which followed the Hillsborough disaster of 1989) – has led to the relocation of many teams away from their traditional home grounds. While some, for example Worcester Warriors, have been successful in forging a new social identity, others have struggled.
Buildings and spaces associated with sporting activity and recreation are recognised as having considerable social interest, often eliciting a strong emotional response for both local communities and fans further afield. Many transcend utility and display special architectural character (Historic England, 2017, 1). Much of our sporting heritage is at risk of neglect, decay and demolition. Many buildings and spaces have also undergone considerable change as a result of changing leisure patterns and attitudes towards comfort, health and safety and competition (English Heritage, 2012, 2); others have been replaced or adapted to engender wider public participation and to provide additional facilities including function rooms (Historic England, 2017, 3).